DOWNTOWN'S
COMMUNITY
THEATRE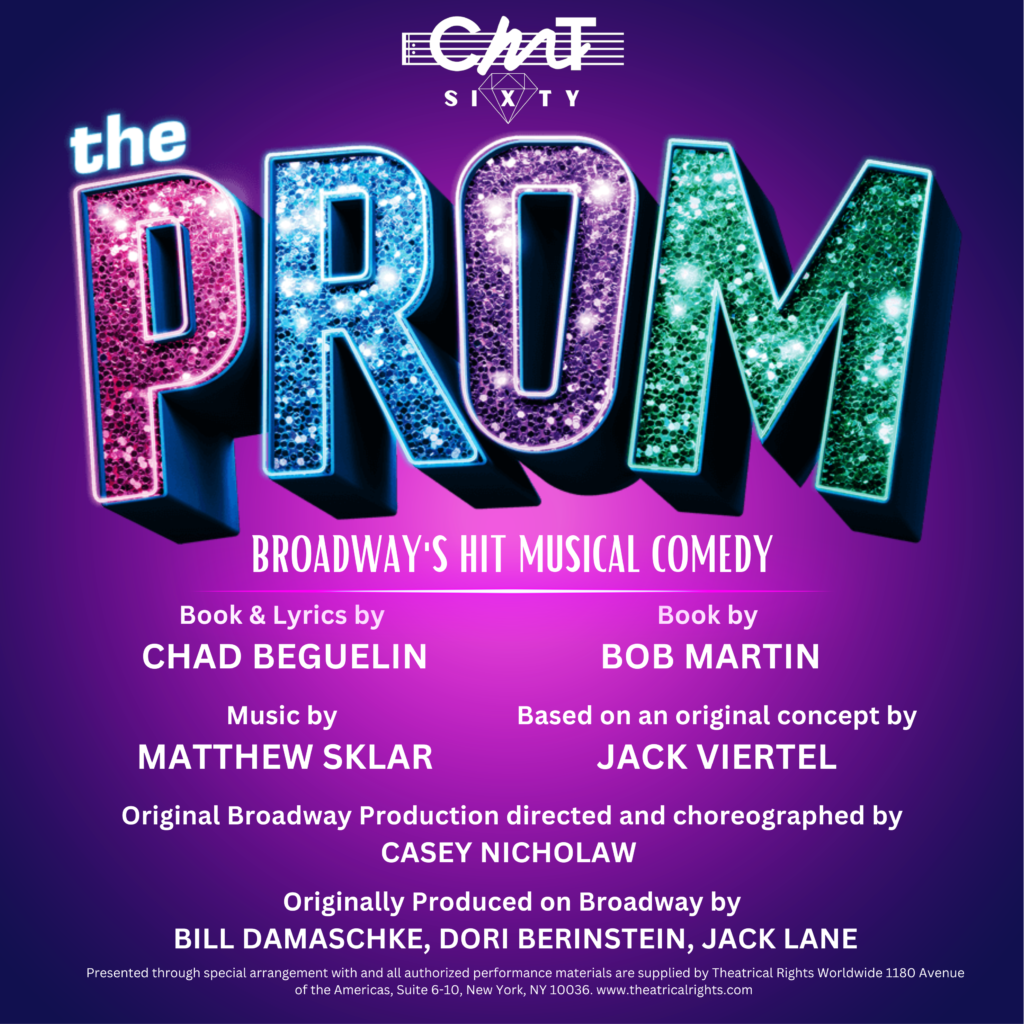 Cincinnati Music Theatre is excited to announce Auditions for their Fall 2023 production of THE PROM. Winner of the Drama Desk Award for Best Musical, THE PROM expertly captures all the humor and heart of a classic musical comedy with a message that resonates with audiences now more than ever.
AUDITION DATES:
Sunday, June 18, 2023, 3:00- 10:00 p.m.
Tuesday, June 20, 2023, 6:00-10:00 p.m. 
(Call backs will be held Wednesday, June 21 at 7:00 p.m.)
LOCATION:
Clifton United Methodist Church, 3416 Clifton Avenue, Cincinnati, OH
AUDITIONS ARE BY APPOINTMENT: Please reserve your audition time HERE . Please print and fill out the audition form prior to your audition. Walk-ins are welcome and will be seen in the next available slot.  
PLEASE PREPARE & PROVIDE THE FOLLOWING FOR YOUR AUDITION:
– 16-32 bars of a Broadway-style song that showcases your vocal range.
– Sheet music in the proper key with cuts marked. An accompanist will be provided (no CD's, tapes or a cappella numbers).
– Shoes and clothing appropriate for a dance audition.
– A memory of your high school prom experience.
– A copy of your resume and headshot.
– Proof of Covid – 19 Vaccination
PRODUCTION DATES:
THE PROM will be presented Friday, November 3, through Saturday, November 11, 2023 in the Jarson-Kaplan Theater at the Aronoff Cener for the Arts.
REHEARSAL SCHEDULE:
Rehearsals will begin with a Company Meeting on Sunday, August 20. This will be followed by three weeks of vocal rehearsal on Sunday, Tuesday and Wednesday nights. Regular rehearsals will begin on Sunday, September 10 and will be held on Sunday, Monday, Wednesday and Friday evenings. Vocal rehearsals will be held at Clifton United Methodist Church. Regular rehearsals will be held at Bassett Hound Sounds, 5633 Vine Street, Elmwood Place, Cincinnati OH 45216
———————————————————————————————————————-
ABOUT THE SHOW
THE PROM is a funny, smart, big hearted new musical with a catchy score, a hilarious book and high energy dance numbers.
After a scathing review from the New York Times closes their latest show on opening night, four eccentric Broadway stars are in desperate need of a new stage. So when they hear that trouble is brewing around a small-town prom, they know that it's time to put a spotlight on the issue…and themselves. The town's parents want to keep the high school dance on the straight and narrow—but when one student just wants to bring her girlfriend to prom, the entire town has a date with destiny. On a mission to transform lives, Broadway's brassiest join forces with a courageous girl and the town's citizens and the result is a love that brings them all together. 
CAST BREAKDOWN:
All roles are volunteer, unpaid positions. All roles are available. No roles have been pre-cast.
We are looking for a large, diverse cast to bring the show's themes of inclusion and diversity to life. We encourage performers of all ages, races, ethnicities, gender identities, sexualities and body types to audition.
There are 7 principal female roles, 6 principal male roles. In addition, there is an expandable Adult Ensemble, who play townspeople, parents, reporters and waiters and a Student Ensemble, who play high school students, fans, waiters and the non-Equity bus and truck cast of Godspell.
CHARACTER DESCRIPTIONS:
Dee Dee Allen – A famous Broadway actress who hopes to revive her career and overcome poor reviews by supporting a teenage lesbian in Indiana. Dee Dee references her humble origins but always embraces her fame and accomplishments when given the opportunity. Over the course of events, she forms a unique bond with a high school principal, a long-time fan. 
Barry Glickman – Dee Dee's co-star in Eleanor!. He teams up with her to try to help rehabilitate their image after their recent show flops. In Indiana, Barry is briefly reminded of his Ohio roots and recalls painful memories about coming out and being abandoned by his parents before triumphing at the prom. 
Angie – An ensemble member and understudy in Chicago who finally quits the show after 20 years of not being able to go on in the lead role of Roxie Hart. She urges Emma to find her light as a person. 
Trent Oliver – An actor who is still looking for his major big break but who still likes to remind colleagues that he was trained at The Juilliard School. His communication skills are applauded at James Madison High School, as he's able to connect with students with conservative views about sexuality. 
Sheldon Saperstein – A theatrical press agent who worries about box office sales because of the poor Eleanor! reviews. He's the one who encourages Dee Dee and Barry to change their image or risk the future of their careers. He later travels to Indiana with them in the hopes of resurrecting their reputations. 
Emma – A small-town girl who only hopes to go to prom with her girlfriend Alyssa.  Unfortunately, the head of the PTA initially bans her from attending but eventually cancels the prom entirely. In an effort find a way to go and still make it up to herself and everyone else, she accepts support from  – and eventually befriends – Dee, Barry and the others, despite their questionable intentions. 
Alyssa – Emma's girlfriend who has still not publicly revealed that she's in a relationship with Emma. Her mother is the head of the PTA who believes that same-sex couples should be banned from the James Madison High School prom and Alyssa often feels like she has to prove herself to her mother. 
Mrs. Greene – The head of the Parent Teacher Association at James Madison High School in Indiana who bans Emma from being able to bring her girlfriend to the prom. However, she doesn't know that it means she's actually banning her own daughter. After learning of their relationship, she initially doesn't accept that her daughter, Alyssa, has a strong romantic connection with Emma.
Mr. Hawkins – The principal at James Madison High School. He's a passionate theatre enthusiast who bonds with Dee Dee and looks beyond her egocentric personality. As Emma and Alyssa's principal, he is 100 percent supportive and on-board with having them go to the dance together. This role is written to be played by a Black male actor.
Kaylee – Emma's former friend who abandoned her after learning about her sexuality. 
Shelby – A high school student who distances herself from Emma but doesn't take a morally righteous stance like her friends. 
Nick – A morally righteous James Madison student who asks Kaylee to prom. 
Kevin – Nick's friend who asks Shelby to prom. 
Olivia Keating/Ensemble -A television reporter.
Second Reporter/Ensemble
Motel Clerk/Ensemble
Ensemble -Students, parents, townspeople and the non-Equity cast of the Godspell bus and truck tour.
THE PROM is being produced by Kathy Beiting with direction by Skip Fenker, music direction by Josh Toth, vocal direction by Lena Andrews and choreography by Mike Fielder.
A message from the creative team:
"We are proud to be able to bring this funny, smart, big hearted new Broadway musical to Cincinnati audiences for the first time. In these tumultuous times, we could all use a little hope and THE PROM fulfills that need as it explores diversity and inclusivity with warmth, humor, dignity and a very healthy dose of classic musical comedy. Don't miss your opportunity to be a part of this bright, high energy production. We encourage you to sign up for your audition today."