DOWNTOWN'S
COMMUNITY
THEATRE
SINCE ITS FOUNDING CINCINNATI MUSIC THEATRE HAS PRESENTED OVER SIXTY-FIVE PRODUCTIONS OF CLASSIC AND CONTEMPORARY BROADWAY MUSICALS.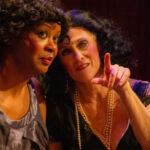 One of Cincinnati's oldest and most successful community theaters, CMT is proud of its long history of presenting popular, large scale, award-winning musicals to enthusiastic audiences from across the Greater Cincinnati area.
It was in the early '60s when CMT founder Will Breyer first approached a select group of individuals to propose the formation of a new Music Theatre Group. In an era when community theatres weren't producing large scale musicals, this new organization was dedicated to the non-professional artist desiring an opportunity to perform in a medium otherwise unobtainable. Will shared his dream with other musical theatre enthusiasts and after many months of hard work, Eastern Hills Music Theatre became a reality.
Will's dream so sparked the imaginations of such a large number of talented performers and technicians that within a very short time the group's scope broadened and Eastern Hills Music Theatre became Cincinnati Music Theatre. Today, performers, orchestra, production staff and crews also come from far flung areas of the southwest Ohio and northern Kentucky area, bringing to CMT a rich diversity and a strong sense of community.
For the next thirty-some seasons, CMT performed in some of the area's better equipped high school auditoriums as they offered their audiences an entertaining mix of classic favorites, including ANNIE GET YOUR GUN, THE SOUND OF MUSIC, HELLO,DOLLY, FIDDLER ON THE ROOF, OLIVER, MY FAIR LADY and THE MUSIC MAN.
In the Fall of 1995, CMT took a giant step forward as they became one of the first (and now, the only) community theatres to become a Resident Company at the newly opened Jarson-Kaplan Theater at the Aronoff Center for the Arts. Their inaugural production in the Jarson-Kaplan, SWEENEY TODD, was the first full-scale production mounted in the new theater and signaled a broadening of CMT's visions and goals. Starting with its 1995-96, CMT began producing two large scale musicals each season.
Since then, in addition to a continuing mix of classic musicals, they have presented family favorites like DISNEY'S BEAUTY AND THE BEAST and Rodgers and Hammerstein's CINDERELLA as well as exciting, newer titles including RAGTIME, SWEENEY TODD, LA CAGE AUX FOLLES, CURTAINS and THE DROWSY CHAPERONE.
CMT is a member of ACT-Greater Cincinnati, Inc (Association of Community Theatres of Cincinnati) and OCTA (Ohio Community Theater Association). Over the years, both organizations have honored various CMT productions with numerous awards.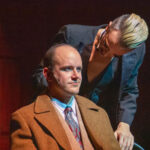 On four occasions, Citybeat's Cincinnati Entertainment Awards have recognized CMT's productions as "Outstanding Community Theatre Production" – EVITA in 2001, CHICAGO in 2005, 42nd STREET in 2006 and GYPSY in 2009.
Where does CMT go from here? We continue to build on the heritage that we've created. We stand on the shoulders of giants. We acknowledge our debt to the founding board (Will Breyer, Doug Gray, Frank Longevin, Jean & John McDowell and Jane & Joe O'Reilly). We continue to expand both audiences and horizons. We continue to challenge ourselves in bringing our best to the stage and commit ourselves to continuing the tradition of presenting outstanding non-professional musical theatre.
While production ticket sales cover the majority of our annual costs, CMT depends on the generosity of its supporters to fund the organization's day-to-day operations and support the CMT Scholarship program.
Your donation to Cincinnati Music Theatre  allows us to continue providing the Greater Cincinnati area with high quality, non-professional musical theater at a reasonable price while supporting our non-profit civic activities (scholarships, community support, etc.).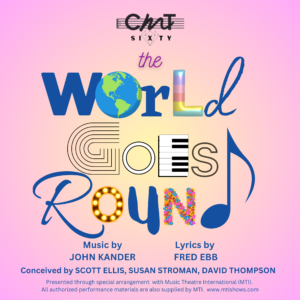 Come out and audition for our next studio series show, "The World Goes Round!" 
A musical revue showcasing the songs of John Kander and Fred Ebb with familiar songs from Chicago and Cabaret as well as songs from more unknown works like Funny Lady and The Rink. Filled with humor, romance, drama, and nonstop melody, The World Goes Round teaches us that no matter what life throws at us, our lives keep going and the world keeps turning.
Choreographer: Katey Blood
Music & Vocal Director: Linda Abbott
Producers: Karen Hendershot and Mary Stone
This production staff is committed to bringing together a diverse group of people. We encourage performers of all races, ethnicities, gender identities, sexualities, abilities, body types, and ages to audition. 
In this production of The World Goes Round, we will be expanding the original cast of 5 performers to 8 - 10 performers. The director & music director will assign songs after the show is cast.
Friday, October 13 from 6:30 p.m. to 9:30 p.m.
Saturday, October 14 from 2:00 p.m. to 5:00 p.m.  
Location: 
Clifton United Methodist Church 3416 Clifton Ave, Cincinnati, OH 45220
Performances:
February 9, 2024 – February 17, 2024 Fifth Third Bank Theatre, Aronoff Center
Auditions will be held individually. We encourage you to sign up and secure your audition time slot HERE to avoid long wait times. 
Walk-ins are welcomed but will be assigned to the first available audition slot.
Please prepare 16 to 32 bars of one (1) up-tempo song and 16 to 32 bars of one (1) ballad that best demonstrates your vocal ability that is not from The World Goes Round. An accompanist will be provided (no recordings or a cappella numbers).
Make sure your sheet music is in the proper key and your cuts clearly marked for the accompanist. Vocalizing will also take place to determine vocal range.
Please bring shoes and clothing appropriate for a dance audition, as you will be asked to participate in a dance choreography combination. The combination will be taught during the audition, but a video of the combination will be available prior to the audition.
Headshots and resumes are encouraged, but not required.
Please bring your personal calendar for December 2023-February 2024. You will be asked to complete a conflict form to share your rehearsal availability.
We are committed to the safety of all members of this production. Please bring proof of your COVID-19 Vaccination. We do require that the cast, crew, and production team be fully vaccinated. QUESTIONS? Please contact Megan Horton, Director – [email protected]