DOWNTOWN'S
COMMUNITY
THEATRE
MAY 2014
Directed by Skip Fenker; Photos by Jim Osborn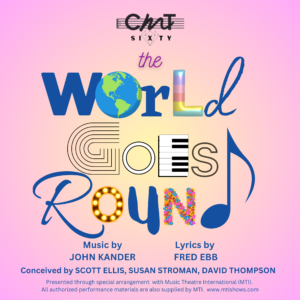 Come out and audition for our next studio series show, "The World Goes Round!" 
A musical revue showcasing the songs of John Kander and Fred Ebb with familiar songs from Chicago and Cabaret as well as songs from more unknown works like Funny Lady and The Rink. Filled with humor, romance, drama, and nonstop melody, The World Goes Round teaches us that no matter what life throws at us, our lives keep going and the world keeps turning.
Choreographer: Katey Blood
Music & Vocal Director: Linda Abbott
Producers: Karen Hendershot and Mary Stone
This production staff is committed to bringing together a diverse group of people. We encourage performers of all races, ethnicities, gender identities, sexualities, abilities, body types, and ages to audition. 
In this production of The World Goes Round, we will be expanding the original cast of 5 performers to 8 - 10 performers. The director & music director will assign songs after the show is cast.
Friday, October 13 from 6:30 p.m. to 9:30 p.m.
Saturday, October 14 from 2:00 p.m. to 5:00 p.m.  
Location: 
Clifton United Methodist Church 3416 Clifton Ave, Cincinnati, OH 45220
Performances:
February 9, 2024 – February 17, 2024 Fifth Third Bank Theatre, Aronoff Center
Auditions will be held individually. We encourage you to sign up and secure your audition time slot HERE to avoid long wait times. 
Walk-ins are welcomed but will be assigned to the first available audition slot.
Please prepare 16 to 32 bars of one (1) up-tempo song and 16 to 32 bars of one (1) ballad that best demonstrates your vocal ability that is not from The World Goes Round. An accompanist will be provided (no recordings or a cappella numbers).
Make sure your sheet music is in the proper key and your cuts clearly marked for the accompanist. Vocalizing will also take place to determine vocal range.
Please bring shoes and clothing appropriate for a dance audition, as you will be asked to participate in a dance choreography combination. The combination will be taught during the audition, but a video of the combination will be available prior to the audition.
Headshots and resumes are encouraged, but not required.
Please bring your personal calendar for December 2023-February 2024. You will be asked to complete a conflict form to share your rehearsal availability.
We are committed to the safety of all members of this production. Please bring proof of your COVID-19 Vaccination. We do require that the cast, crew, and production team be fully vaccinated. QUESTIONS? Please contact Megan Horton, Director – [email protected]