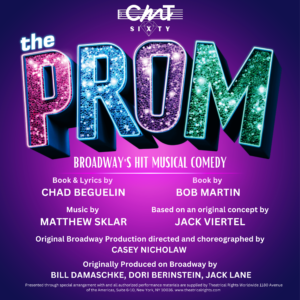 Cincinnati Music Theatre is excited to announce Auditions for their Fall 2023 production of THE PROM.
Winner of the Drama Desk Award for Best Musical, THE PROM expertly captures all the humor and heart of a classic musical comedy with a message that resonates with audiences now more than ever.
AUDITION DATES:
Sunday, June 18, 2023, 3:00- 10:00 p.m.
Tuesday, June 20, 2023, 6:00-10:00 p.m.
(Call backs will be held Wednesday, June 21 at 7:00 p.m.)
LOCATION:
Clifton United Methodist Church, 3416 Clifton Avenue, Cincinnati, OH
AUDITIONS ARE BY APPOINTMENT: Please reserve your audition time HERE . Please print and fill out the audition form prior to your audition. Walk-ins are welcome and will be seen in the next available slot.  
PLEASE PREPARE & PROVIDE THE FOLLOWING FOR YOUR AUDITION:
– 16-32 bars of a Broadway-style song that showcases your vocal range.
– Sheet music in the proper key with cuts marked. An accompanist will be provided (no CD's, tapes or a cappella numbers).
– Shoes and clothing appropriate for a dance audition.
– A memory of your high school prom experience.
– A copy of your resume and headshot.
– Proof of Covid – 19 Vaccination
PRODUCTION DATES:
THE PROM will be presented Friday, November 3, through Saturday, November 11, 2023 in the Jarson-Kaplan Theater at the Aronoff Cener for the Arts.
REHEARSAL SCHEDULE:
Rehearsals will begin with a Company Meeting on Sunday, August 20. This will be followed by three weeks of vocal rehearsal on Sunday, Tuesday and Wednesday nights. Regular rehearsals will begin on Sunday, September 10 and will be held on Sunday, Monday, Wednesday and Friday evenings. Vocal rehearsals will be held at Clifton United Methodist Church. Regular rehearsals will be held at Bassett Hound Sounds, 5633 Vine Street, Elmwood Place, Cincinnati OH 45216
Please visit our Upcoming Auditions page for additional show information and character breakdowns.